Oxym is a rock band formed in its first guise in 1976. It went through many transitions during the years to 1982 and was fortunate enough to emerge as one of the many bands know to be part of the legendary New Wave of British Heavy Metal (NWOBHM).
The band recorded the single "Music Power" / "Mind Key" in 1980 which sold nearly 2000 copies – see eBay for incredibly rare original copies, and the very dubious blue versions from Brazil !! The success of the single, the popularity of the band and the demand for the NWOBHM genre meant that Oxym returned to Cargo Studio's in Rochdale to record "Hot Rain" for the compilation album "New Electric Warriors". This track appears on the vinyl release, but not the CD version (?).
And that's it…….the only professionally recorded tracks the band ever did. They've got plenty of old concerts tapes, some of which have been recreated on to CD, thanks to our friend – rock historian and guru Kevin Penberthy, but in reality 3 available tracks to either buy, or now of course stream. The band split in 1982, never really fulfilling their potential (if only they'd been based in London) leaving over 20 unrecorded, but heavily gigged, original songs and a lots of great memories and experiences.
Fast forward 32 years to 2013 and two very significant things happened which has motivated the guys to reform, rehearse and release the album which should have recorded all those years ago.
Firstly – Roxxcalibur – a fantastic band from Germany did Oxym the great honour of covering "Music Power" on their most recent album "Lords of the NWOBHM". You can imagine the astonishment and pride that they chose this track from thousands they could have. And what a brilliant version it is too.
Then – the death of Rob Rigby, the founder of the band and a great. great friend to all of us. A fantastic musician, guitarist and songwriter, and one of the best vocalists you'll ever hear. Rob will now no doubt be reunited with Ross Halliwell, the original bass player and co-writer of Oxym's early material including Music Power, Mind Key and Hot Rain. Ross died in 1979 at the age of 19, he too will  never be forgotten and we are also grateful for his talent, ability and enthusiasm, and for helping us to start the journey. This website, the forthcoming album and everything else Oxym do from now on is dedicated to you both.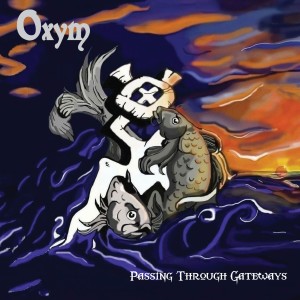 The new album 'Passing Through Gateways' is available to buy now!!
This special limited edition digi-pack contains a 16 page booklet with lyrics and a re-mastered version of "Hot Rain" featuring original vocalist and guitarist Rob Rigby
If you are interested in purchasing an Oxym T-shirt with the design below, please email alison@oxym.co.uk with the size required and the country to be delivered to. We have a limited number available in S/M/L/XL/2XL at £7.00 only plus P&P. All are black T's with white lettering and image. We will reply to your email with […]
The band would like to say a massive thank you to everyone at Brofest for making it a very special and forever memorable day for all of us. The management (especially Martin), the on-stage crew, the sound engineers, the lighting technicians, the officials and everyone else at the venue were very helpful, accommodating, and incredibly […]
The band are live on-stage at Sydney Street Working Men's Club, Accrington. Support once again will be provided by John DH Ellis. There will be a small cover charge of £3.00 only for entrance, and Oxym's new album "Passing Through Gateways" and T-Shirts will be available on the night.
Not long to go now. Please support all the bands playing over the weekend – 19th Feb to 21st Feb. It will be spectacular !!
Friday the 22 Jan 2016 – a very significant day in the history of the OXYM. The album "Passing Through Gateways" is officially released and the band will mark this occasion with a live performance of the album in its entirety plus other well known Oxym classics, at Key Street in Clitheroe, Lancashire. The band […]
The running order for the bands performing at Brofest 2016 has been announced and Oxym are due on stage on Sunday the 21st February at 4.00pm. We look forward to seeing you there. www.brofest.co.uk / www.facebook.com/brofestuk. Please access this post to see the official Brofest #4 poster.